I admit- I'm a baby blog.  I just started.  I have no clue how to really access the potential of turning this little tutorial blog into one of the big girl blogs.  I follow the big girl blogs and eye their beautiful pictures and design with delight and a hopeful wish that "I can be like that someday!!".
I decided to enter a little linky party- I've never done this before and reaching out to show my stuff is WAY out of my comfort zone.
Fireflies and Jellybeans is one of the great blogs I stalk on a regular basis.  Full of ideas and wonderful pictures- I can always find inspiration here.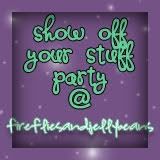 So today when I was out stalking- I discovered their linky party and I thought I would join.   Okay…I feel like the odd kid out on the playground anyway- but I will suck it up and attempt to link my silhouette tutorial.  Let's hope I don't screw it up.
So I follow the instructions…and instead of putting the name of my TUTORIAL as I should have- I entered my first and last name.  Sigh.  It's obvious who the newbie is. 
But the linky party has some VERY cool links to crafty, DIY, and yummy treats!  I'm going back to stalk…
Check it out!
~Elizabeth